Oceancraft was established in 2001 and is owner-managed by Andre' van Niekerk. In 2002 Andre' established Veecraft Marine, a successful and trusted Cape Town based Shipbuilding company, which was later acquired in 2014, by the Nautic Group.
Oceancraft has remained owner-managed but is now supported by a team of experts who have over 25 years of experience in Shipbuilding and Marine Engineering. Our team has a proud history of exceeding our client's requirements and delivering quality products on time.
While Oceancraft focuses on technology transfer and specialized craft, we have a strategic partnership with our sister company QUAYSIDE MARINE who has over 450 proven designs incorporating the latest technology and manufacturing techniques. This range covers WORKBOATS, HARBOUR VESSELS, PASSENGER FERRIES, CREW AND SUPPLY VESSELS, PATROL BOATS and INTERCEPTORS
OCEANCRAFT IS YOUR STRATEGIC PARTNER FOR:
Specialized Craft

Shipbuilding technology transfer

Project Management and Onsite Supervision
SHIPYARD AND
ONSITE SUPPORT
Oceancraft believes in providing a turnkey solution. Not only do we offer you a proven or customized design, we have the expertise and experience to supervise the build of your vessel at your selected in-country shipyard or one of our affiliated shipyards.
Oceancraft offers onsite Construction Support and Owners Representative Services. Our experienced staff has established relationships with suppliers and proven processes at affiliated yards. We also assist shipyards in the use of new materials and particular types of vessel construction methods.
Oceancraft provides a wide range of services to develop and manage complex ship building projects. We cover all construction phases:
Specification writing and review
Shipyard appraisal and selection
Our on-site Supervision Team works to a methodology that is based on refined procedures that have been developed through years of ship building and operational experience. Our methods are more stringent than those usually implemented by shipyards and accepted by Classification Societies, thus ensuring that we achieve a higher standard of quality.
It is our policy to offer a quality and professional service to our clients, thus building strong relationship throughout and after the successful conclusion of the project.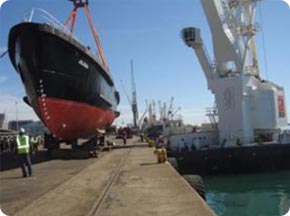 Oceancraft has a track record with most hull forms, including mono-hull, catamaran and trimaran as well as the diverse range of propulsion systems which includes the use of hydro-supportive foils. This coupled to our established manufacturing processes of steel, aluminium and composite hulls ensures that our years of experience are reflected in a product that meets your expectations.
Oceancraft vessels are built for performance, reliability and maintainability in the most extreme conditions and for the most discerning operators. Oceancraft vessels are have simplistic, but functional interiors and machinery spaces.
Oceancraft considers each client's specific requirements and with our ability to leverage off our range of proven craft, we will tailor-make your vessel to meet your specification.
Oceancraft's Executive team has owner-managed and established new yards. We recognize the need for countries to stimulate their own economies through local production, thus proving skills development, job creation and economic growth.
We now offer Shipyard Technology Transfer as a turnkey process to you. We offer all aspects of the ship and boat building process:
Oceancraft have the expertise to establish your new shipyard or upgrade an existing facility.
Shipyard Facility layout and design, including structural design of building

Supervision of the construction of the yard and factory process

Procurement of the Shipyard Machinery and Equipment

Development and Design of Product, using a world renowned database

Marketing and Sales Plans

Quality Management Processes

Process Control and Industrialization
Process Control and Industrialization

Financial Systems control

Quality Assurance Systems

Acceptance Testing and Trials

After Sales Service and Warranty
Oceancraft understands that after-sales service and support is as important as the vessel itself. We believe in building longstanding relationships with our clients.
CREW TRAINING

Theory and practical modules covering the operation and maintenance of the vessel
DOCUMENTATION

Handbooks, Manuals and Data Packs
TECH SUPPORT

Lifecycle and Maintenance service analysis and implementation
SPARE PARTS

Solutions for all vessel equipment and machinery needs from reliable supplier networks